< Back
| Showing articles from "03-2017"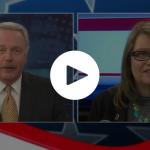 03/20/2017
Watch Lisa's latest interview with Jet 24/Fox 66. 
03/07/2017
Erie, PA - STITCH, the 2016 silent film-short about Erie's McBride Viaduct gained national attention in the March 3 edition of the Washington Post. The film-short by Erie's Lisa Austin, a City of Erie mayoral candidate and tenured Edinboro University Art Professor, debuted in Maryland in January as a part of Nikki Brugnoli Whipkey's invitational drawing exhibit, Drawn Out, Drawn Over: Mapping the Territory of Experience. The film will debut locally as part of the Erie Art Museum's Gallery Night on Friday, March 10 at 7 p.m. In this STITCH exhibit, sketches, a film-short and a model of the Viaduct demonstrate this bridge's crucial role in the past, present and future of Erie.